Bathroom Renovations Gold Coast
Premium quality bathroom remodels
If you're looking for a high-quality bathroom renovation, regardless of your budget, the team at Symcorp Building Services have a practical, stylish solution. Our builders have years of experience carrying out bathroom renovations, large and small, for clients across the Gold Coast, Tweed Heads, Brisbane southside, and northern NSW. Symcorp Building Services ensures your bathroom renovation project will be completed on time, on budget, and to an exceptional standard.
Take the first step and book a free consultation with our bathroom remodel specialists today.
Get started on your new bathroom today
Modern Gold Coast bathroom designs
Bathrooms have changed in recent years from being a purely functional space to a place to relax and enjoy. Whether you're creating the bathroom of your dreams or making much needed and long overdue repairs and upgrade, Symcorp will be with you every step of the way, making your new bathroom renovation as quick, seamless, and affordable as possible.
We can provide you with a complete transformation, or give your bathroom a simple face-lift with new fixtures and floors for a more contemporary look. Choosing the right company for your renovation, one that handles every aspect of the job from beginning to end, is now as easy as giving Symcorp a call.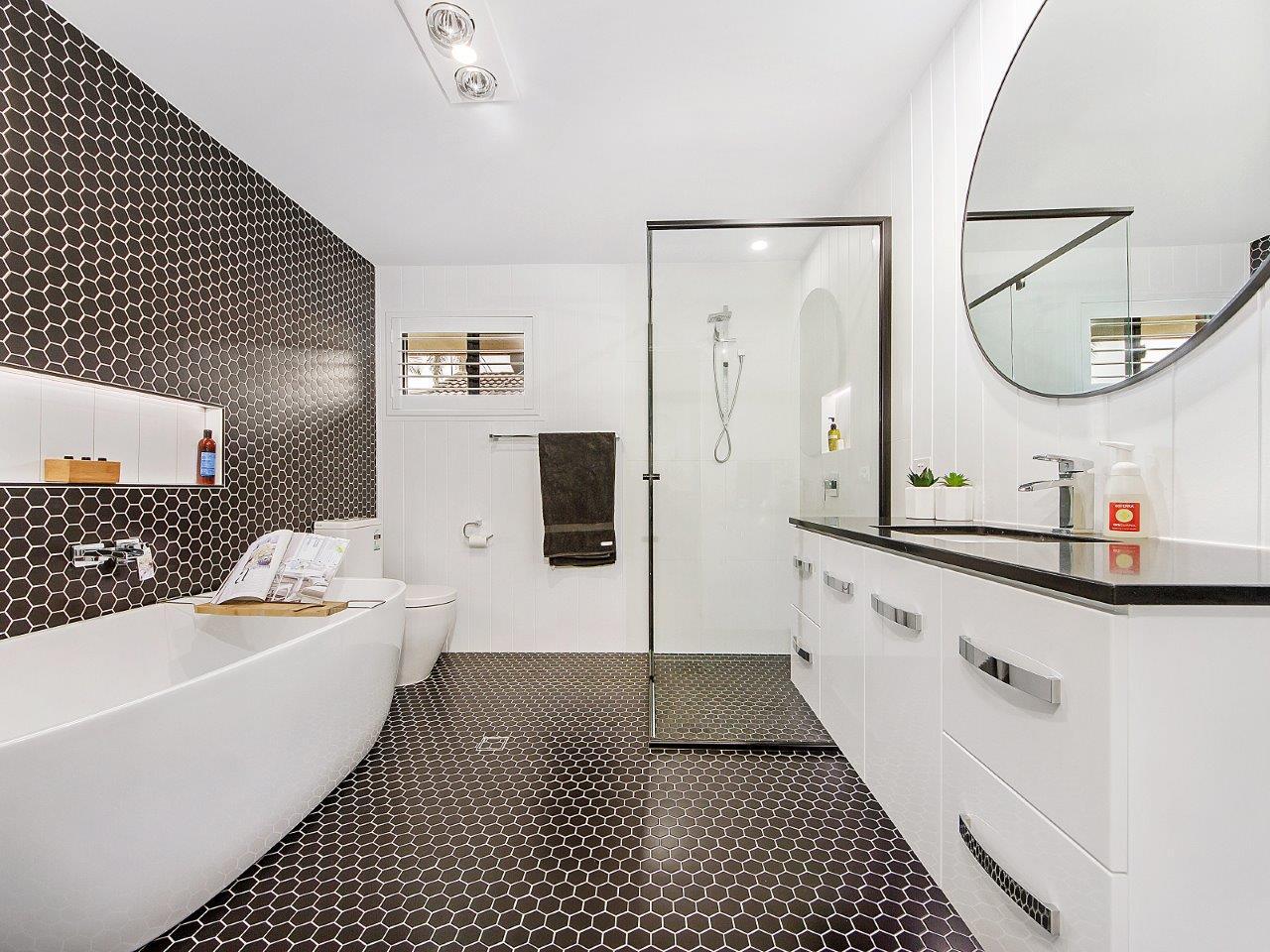 Renovating your bathroom is your chance to show your individual taste and style. Making your bathroom modern, attractive, and efficient is easy when you choose the right professional to help guide you through the process. Even the a well planned renovation can go wrong if the contractor is not up to the task. That is why our team are on hand throughout your project from the bathroom design and planning to project completion, ensuring that the entire job is done up to our high standards, completed on time, and on budget. From start to finish, we take care of everything.
A bathroom with old-fashioned decor and style can be transformed fairly quickly into a modern, efficient and functional space, a room to enjoy in your dream home or to ensure a quicker sale if you plan a move in the near future.
Many home owners worry that their small bathroom has limited options, this is not the case. With smart bathroom design a huge amount can be achieved with in a limited space. Speak to our team about the renovation options available for small bathroom renovations.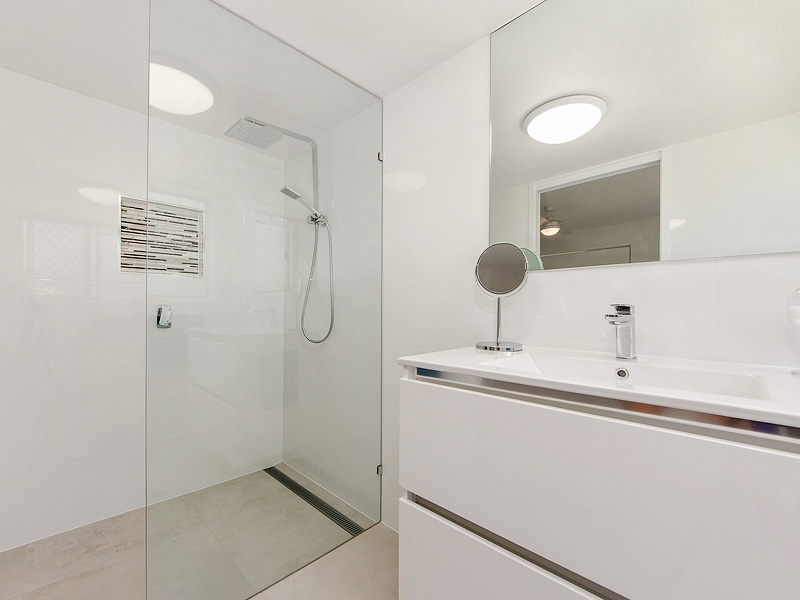 Why choose Symcorp for your bathroom reno?
When you decide it is time to remodel your bathroom, it can be either an easy, pleasant transformation or a costly, painful experience. Selecting the right bathroom design, choosing the correct cabinets, benchtops, and flooring can be exhausting. Many questions need to be considered such as: How will the new bathroom blend with the existing decor? Is it better to enlarge the bathroom, or maybe add a laundry or closet? At Symcorp, we have the experience and expertise to help guide you through the tough bathroom design choices.
Our renovation builders and designers will help evaluate your ideas, your likes, dislikes and possible changes. We will assist in planning the project to fit within your budget, whether it is a full bathroom renovation or simply some cosmetic upgrades. Our experience also helps you to plan for any unexpected issues, such as existing leaks or hidden mould issues.
Symcorp Building Services are a locally owned, family operated building company that values our good name and the complete satisfaction of our customers. During our years of providing renovation services to clients throughout the Gold Coast and Tweed Heads, we have become known for superior workmanship through our many satisfied customers.
From bathroom design to selecting the ideal fixtures and choosing the perfect flooring for your renovation, Symcorp is with you each step of the way.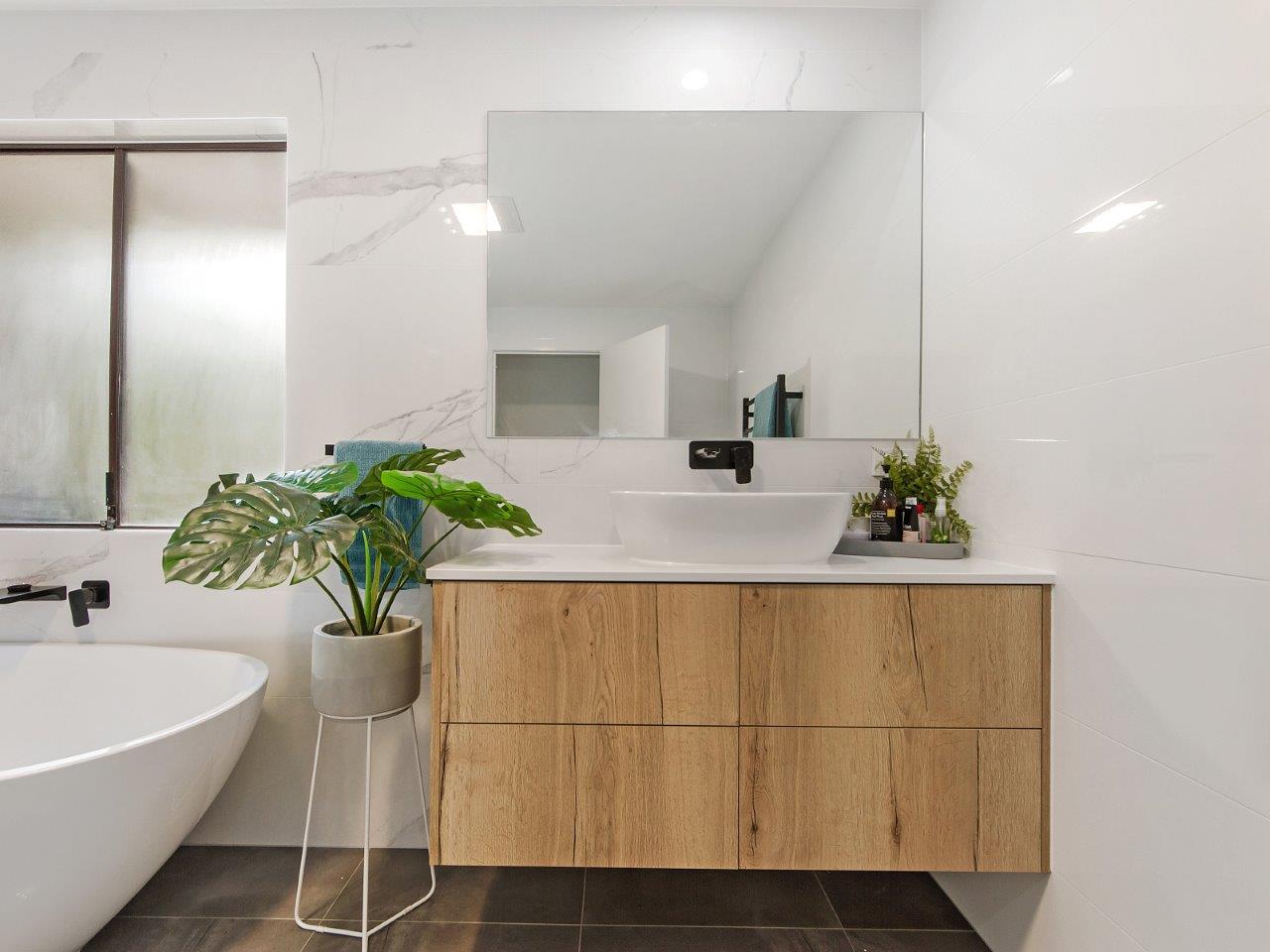 Bathroom renovation tips
Make a renovation budget and stick to it - Know in advance what you want to spend, and plan for the unexpected. We can give you an accurate bathroom renovation cost estimate for your bathroom project.
Seek professional advice - Planning out each step in advance with a professional builder means you know in advance the costs involved, as well as the time it will take to deliver your new bathroom.
Hire a trusted reputable contractor - Ensure your thoroughly check the reputation and experience of the building contractor you hire, including viewing examples of their past work. Our years of experience and outstanding customer reviews are your guarantee of exceptional work and a fair price. Trying to remodel a bathroom yourself can be challenging. Remember, bathroom renovations involve plumbing and electrical services which must be carried out by licensed plumber and electrician to the relevant Australian standards and regulations or your budget could suffer if work has to be redone and the project completion could be delayed.
Bypass the middleman – Dealing with a single, experienced renovation company like Symcorp, means that you always have consistent communication and quality results. At Symcorp we handle every aspect of your bathroom renovation. From plumbing and electrical to construction, painting and tiling, we manage every part of the job to ensure a top quality product which is within your budget.
Your local specialist in quality bathroom renovations Gold Coast
Symcorp is based in Robina and provides bathroom renovation services throughout the Gold Coast, Tweed Heads, Brisbane southside, and Northern NSW. For beautiful, stylish bathroom renovations contact our service team on 07 5594 1768 or complete our quick bathroom reno enquiry today.