Top quality custom dual living solutions
Considering maximising the return from your land by building a duplex? Symcorp's experienced Gold Coast home builders can take care of everything from the initial custom duplex design to complete project management, right through to the final handover. We understand that building a duplex or dual occupancy home can be an excellent investment option for large or corner blocks and will help you to create the perfect dual living space tailored to the block and area.
Symcorp Design & Build offers specialist dual living home building services throughout the Gold Coast, Northern NSW, Tweed, and Brisbane's southern suburbs.
Duplex building options
The Gold Coast region is an ideal location for dual occupancy homes with over 35% of its residents living in rental accommodation and with an increase in the sale price of townhouses and units, this is a great market to invest in regardless of your strategy. With many sort after suburbs with older homes on large blocks, the duplex option allows for maximum returns in key areas.
Dual living homes presents a unique investment opportunity with a range of strategies available:
Sell one residence and keep the other for rental income.
Sell both.
Live in one residence and keep the other as an investment (or use as a granny flat).
Keep both as an investment.
Looking for some industry hacks on making the most of your duplex? 5 ways to make your small home look spacious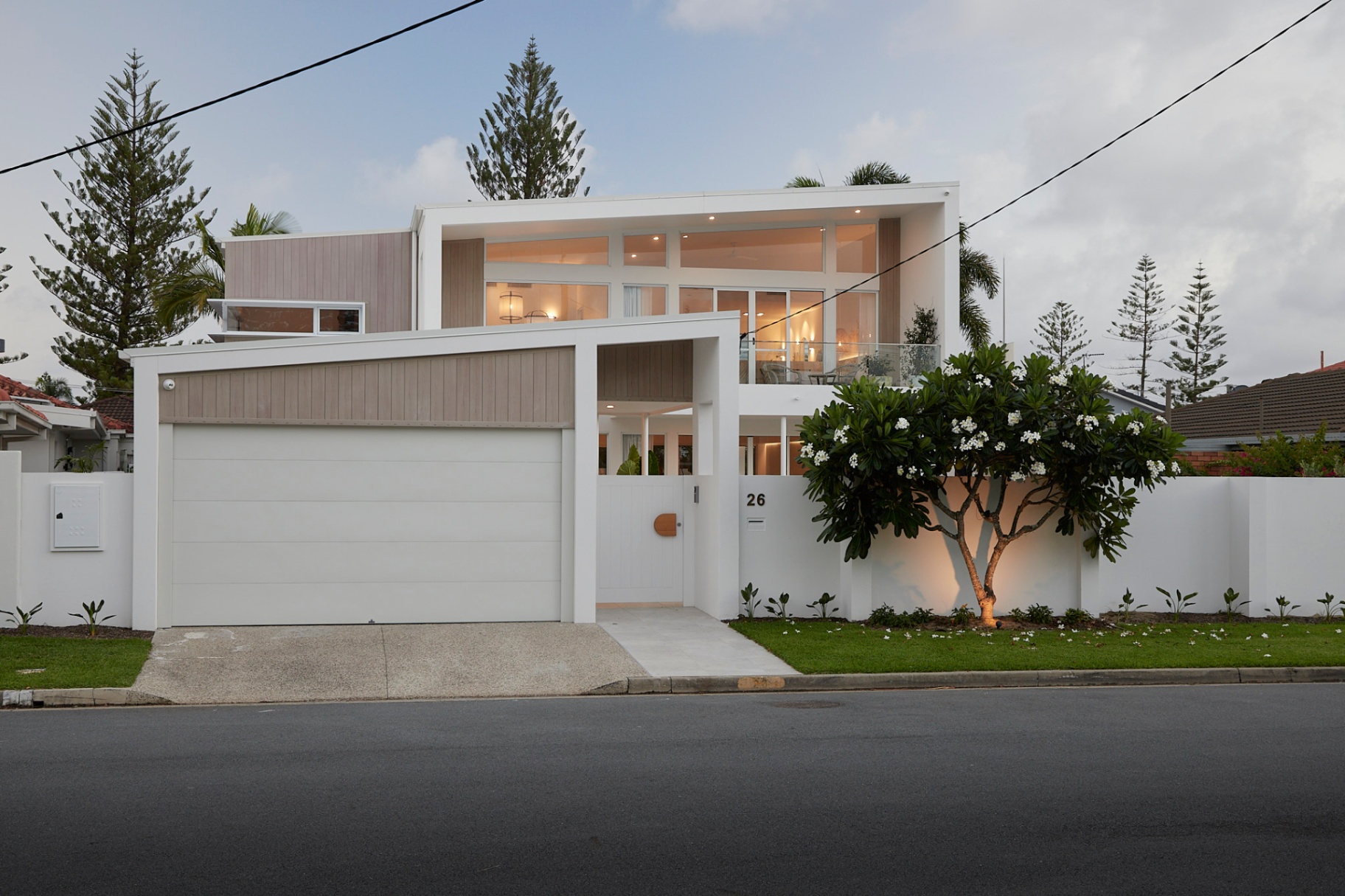 Dual occupancy designs Gold Coast
Symcorp duplex design options extend from the basic townhouse right through to luxury homes, with the block position and location guiding the building layout. Corner blocks of land, as well as larger lots, are ideal for dual occupancy building.
Some of the more popular layout options we see when building duplex homes are:
A corner block with an entry from both streets of the corner.
A larger block with an entry from the front as well as a side entry lane to the rear residence.
A larger block with a single front entry.
The design options for the duplex homes are as endless as that with a traditional single dwelling residence. Our experienced design team will help guide you through the style, fixture, and product decisions to ensure your budget is adhered to as well as maximum returns achieved while creating a top quality, functional home.
Some of the practical considerations to take into account when building a duplex or dual living residence include:
Does the land have the property zoning and title needed to allow a duplex?
What is your investment strategy?
How does the finance need to be structured considering there will be more capital outlaid for possibly a longer period of time?
If on-selling the properties what is the worst-case scenario if one or both of duplexes don't sell for a longer than anticipated timeframe?
We can assist you with every step of the building process to get your duplex approved, passed through the local council, and built in a quick and efficient timeframe.
The Symcorp duplex building process
The Symcorp team are on hand to guide you through every step of your custom home building project offering attention to detail, excellent customer service, and open communication from the first building consultation right through to project completion.
STEP 1 - Initial free consultation
At this first initial meeting we will discuss:
The internal layout, number, and types of rooms and overall size.
Budget and finances
Dates, timelines, requirements, and the building process
STEP 2 - Duplex design, plans & estimating
Floor plan drafted
Internal and external designs
Scope of works is clear, taking into consideration many components such as finances/budget and overall duplex size and style.
This stage is critical to ensure we tailor the duplex to your budget.
STEP 3 - Building quote
The building quote creation can take approximately 2 to 3 weeks.
The entire job is quoted based on the scope of works and specifications.
The quote is presented to you.
Possible amendments discussed and quotation finalized with the exact price.
STEP 4 - Fixed price contract
QBCC or Master Builders Contract is finalised outlining specifications of your duel living build and the exact final fixed price.
Commencement date, building timeline, and completion dates set.
STEP 5 - Council approvals and certification
Our team will take care of all the council requirements and paperwork needed to commence your building project.
STEP 6 - Pre-construction meeting
You will be introduced to your Site Supervisor/Project Manager who will be on site managing your build from start to finish.
We can answer any questions you have about the building of your duplex.
STEP 7 - Construction
Dual occupancy home building construction commences.
Building and site inspections are carried out at each critical stage.
Progress payments are made at each stage.
STEP 8 - Practical completion
All building works are complete.
Practical completion walk-through and inspection is carried out - this means your duplex is now complete and habitable, barring some very minor 'defects' arising from the inspection (this is totally normal).
Minor defects rectified.
Final payment is made.
STEP 9 - Final handover meeting
Your new duplex is now finished and ready to either put on the market to sell, get tenants in, or possibly move into one for yourself.
Certificate of completion is provided.
Congratulations your top quality Symcorp duplex is complete.
Your local specialist duplex builders on the Gold Coast & Tweed
If you're looking for a trusted Gold Coast dual occupancy builder for your dual living project contact the Symcorp team on 1300043021 or complete our home build enquiry today.
Ref - quickstats.censusdata.abs.gov.au/census_services/getproduct/census/2016/quickstat/309