Quality and reputable canal house builders
If you are looking for a professional team that can offer a smooth and stress-free building process when it comes to canal homes, give Symcorp Building Services a call. From creating and designing to the build itself, constructing a canal home to your exact specifications and needs has never been more accessible.
We are specialists when it comes to luxury and custom canal home ideas, taking the time necessary to develop a design which suits you, your ideas, your needs and your budget. Symcorp builders offers premium canal house building services throughout the Gold Coast, Northern NSW, and Brisbane's southern suburbs, so get in contact today.
When it comes to building the perfect canal home, every detail needs to be considered and every step needs to be carefully planned. This allows for a level of luxury that Symcorp take great pride in, and is reflected in every canal home we complete. Our luxury home building team are committed to providing top level service and experienced project management services, offering you peace of mind that you are dealing with experts.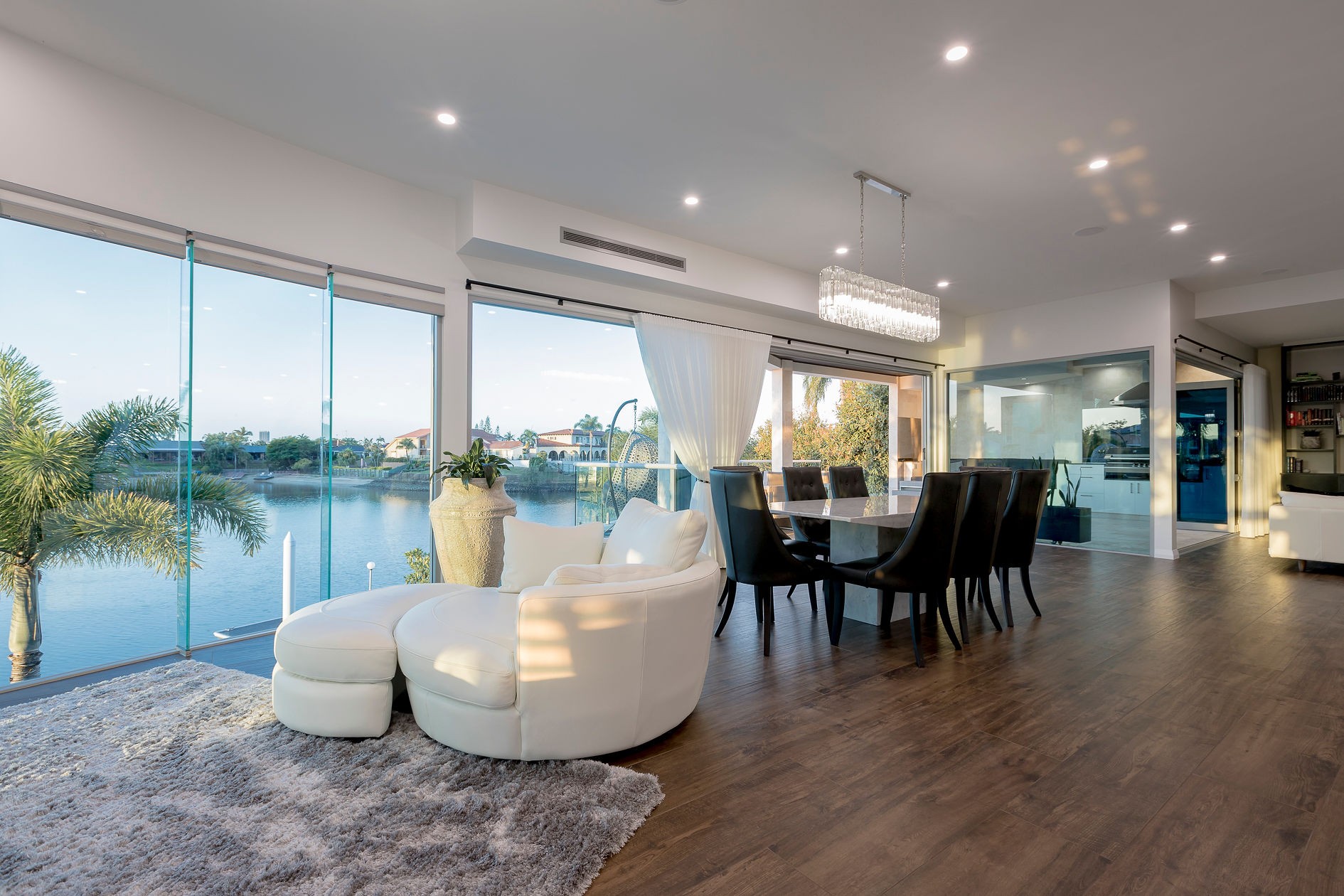 Custom designed canal homes
At Symcorp, we understand that not everyone wishes to have a stock-standard kit canal home. That is why we offer customer designed canal properties to suit a range of lifestyles, blocks, designs, sizes and budgets. Our team of dedicated home building professionals are committed to providing you with a quality canal home, no matter your specifications or customisations. Give us a call to learn more.
Symcorp Builders expert canal home building tip - Considerations when building a canal home
Why use Symcorp to build your canal home?
There are a range of benefits from choosing Symcorp to build your canal house:
We are Gold Coast based and have been providing industry leading home building solutions in the area for years.
We offer a free no-obligation consultation and customised quote
Our contracts are a fixed final price, ensuring there won't be any surprise costs along the way.
Our team is passionate about providing top quality workmanship at every stage of a build, from the foundations to the finishing touches.
Our design team, project managers, and tradespeople are highly skilled and have an eye for detail, ensuring nothing gets missed.
We've refined our systems to provide customers with a professional, streamlined, and enjoyable building experience.
All of our work including building new homes, renovations, extensions, granny flats and garage conversions come with a 7 Year Structural Guarantee .

The canal home building process
Our customisable canal home building process covers:
STEP 1 - Initial free consultation
At this first initial meeting we will discuss:
Your vision for your custom home, your style, your wishes
The internal layout, number and types of rooms, and overall size
Budget and finances
Dates, timelines, requirements, the building process
STEP 2 - House design, plans, & estimating
After the first initial meeting the next steps are:
Floor plan drafted
Internal and external designs
Scope of works is clear, taking into consideration many components such as finances/budget and overall house size and style.
This stage is critical to ensure we tailor your home to your budget.
STEP 3 - Building quote
After the design, plans, and estimating step we can now put together a quote:
This takes approximately 2 to 3 weeks.
The entire job is quoted based on the scope of works and specifications.
The complete quote is presented to you.
Possible amendments discussed, and quotation finalized with the exact price.
STEP 4 - Fixed price building contract
QBCC or Master Builders Contract is finalised outlining specifications of your build and the exact final fixed price.
Commencement date, building timeline, and completion dates set.
STEP 5 - Council application & certification
We will take care of all council requirements and paperwork needed to commence building.
STEP 6 - Pre-construction meeting
You will be introduced to your Site Supervisor/Project Manager who will be on site managing your build from start to finish.
FAQ about building your new home
STEP 7 - Construction
Building commences
Building and Site Inspections at each stage
Progress Payments at each stage
STEP 8 - Practical completion
All building works are now complete
Practical Completion walk-through and inspection, this means your new home is now complete and habitable, barring some very minor 'defects' arising from the inspection (this is totally normal).
Minor defects rectified
Final Payment
STEP 9 - Final handover meeting
Your new custom dream home is now finished and ready for you and your family to move in.
Certificate of completion is provided
Your dream home is yours to enjoy!

Prestige canal home Gold Coast
If you would like to build a premium canal home with a difference, give the Symcorp team a call on 1300043012 or complete an enquiry form today. We are the trusted Gold Coast builder you have been looking for, so get in contact now.