Premium quality Gold Coast custom prestige homes
Creating, designing, and building your brand new luxury home, tailored to your exact specifications has never been easier with the help of Symcorp luxury home builders on the Gold Coast. Our experienced team are committed to providing our client's with exceptionally high standards of service and workmanship, attention to detail at every stage of the building process, and experienced project management services.
Symcorp offers premium house building services throughout the Gold Coast, Tweed, Northern NSW, and Brisbane's southern suburbs.
Custom designed prestige homes
When it comes to home building excellence, every last detail is considered, planned, and taken care of. Symcorp building company slogan One Call Does It All sums it up best. Our experienced building team can take care of every last detail for your new prestige home including:
An architecturally designed floor plan
All council, engineering and certification requirements
Internal and external designs
Complete landscaping (both hardscaping and softscaping)
Custom designed and built pool
A custom home security system
An integrated home automation system
An incredible range of high-end internal fixtures and fittings for every area of the home
Full lighting design
Interior design options (if requested)
Energy efficient design and fittings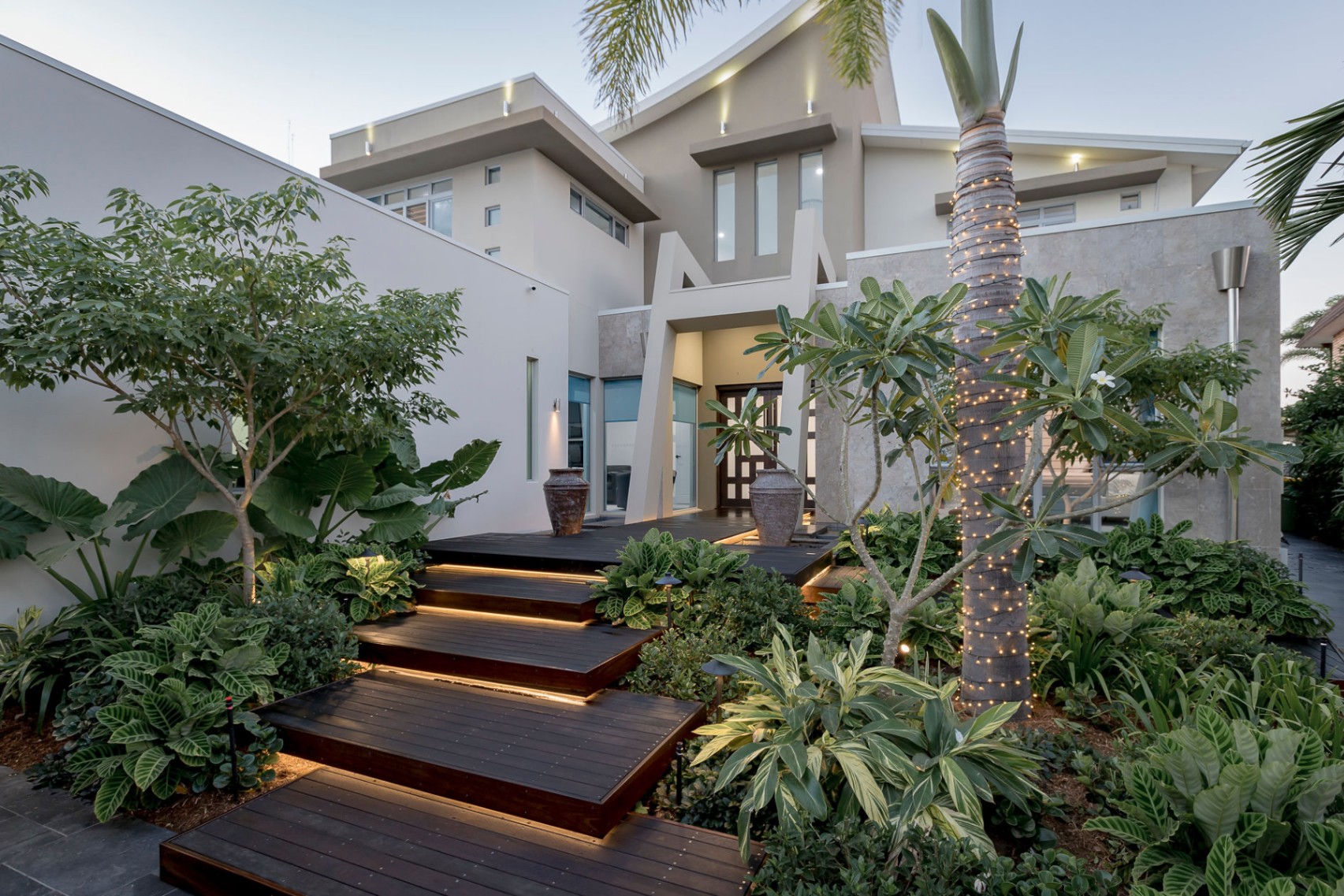 Your brand new home can be uniquely tailored to suit your lifestyle and your taste, there are no limits to what we can create for you. Our team focus on each client's individual style and design preferences to ensure the finished home is everything you'd envisaged, and more.
During the design process, our team will endeavour to maximise the natural features of your position and aspect, whether they include amazing city views, a tranquil canal waterfront, ocean breezes, or calming country sounds.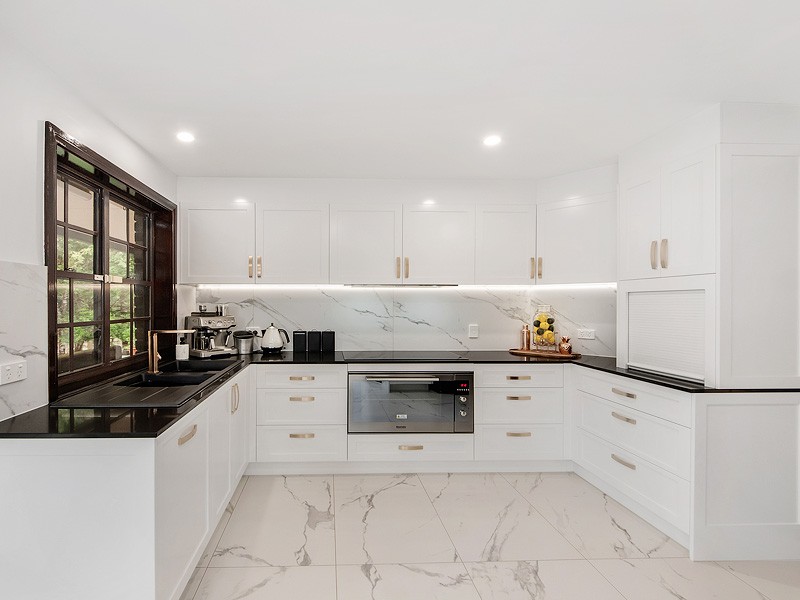 Gold Coast luxury home builders
Symcorp Gold Coast builders take as much time as necessary to discover the exact type, size and style of home you'd like to build, ensuring we have considered every last detail needed to create a bespoke luxury designed home, tailored just for you.
Building your luxury custom home should be a rewarding process. More importantly, your new home should provide you and your family with the features, functionality, and design that suits your lifestyle and enhances the way you live.
Sympcorp - building new homes of opulence
The home building experience can be overwhelming for many people, with thousands of options to consider and dozens of steps to negotiate. Our building and design team have carried out so many building projects we've managed to streamline the process to provide our clients with a smooth, enjoyable construction journey.
Our support team will be on hand every step of the way to answer any questions you may have and provide all the guidance you need. We'll walk you through everything from start to finish, making sure our communication is open and consistent, ensuring everyone is always on the same page.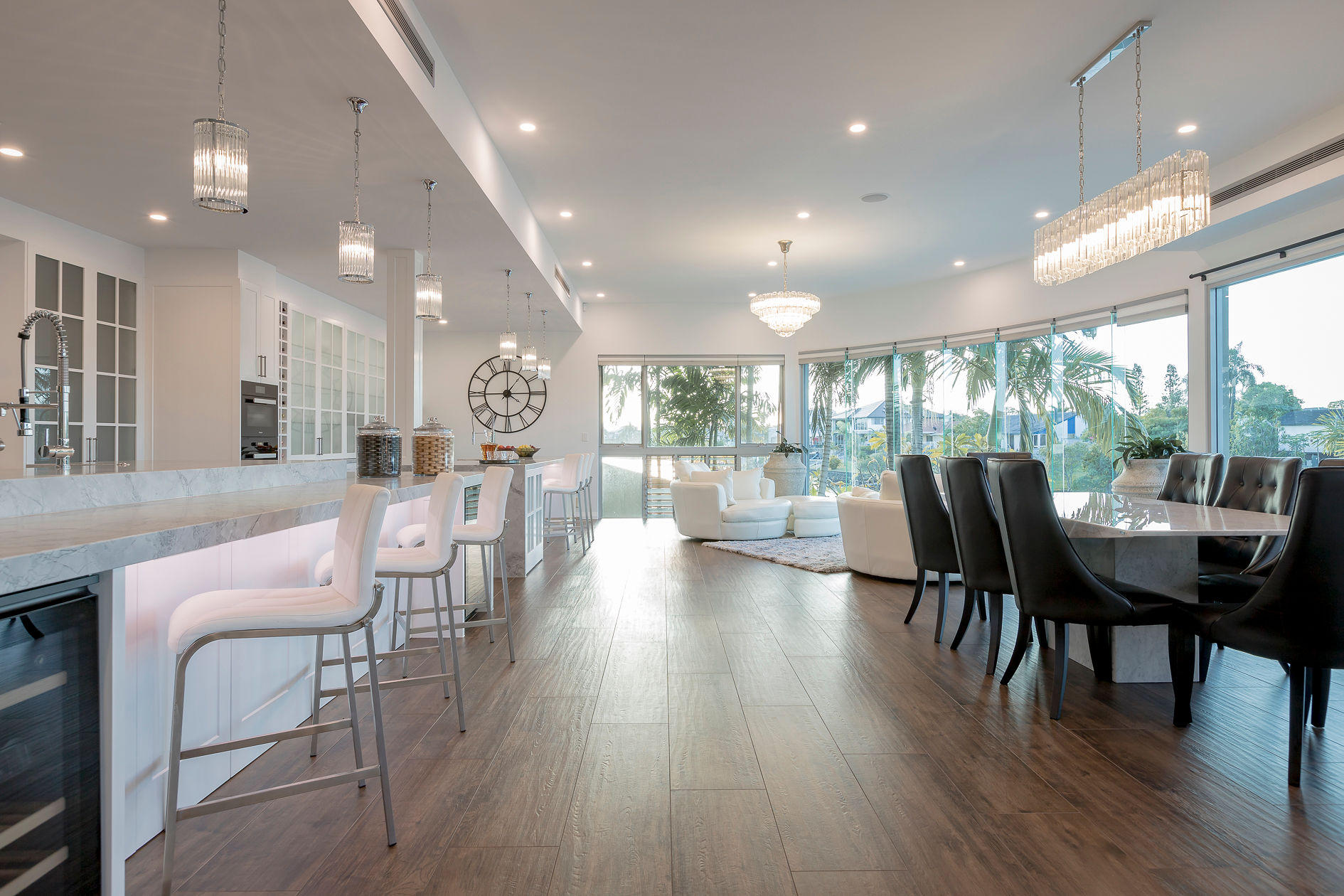 The Symcorp luxury new home building process includes these steps:
STEP 1 - Initial free consultation
At this first initial meeting we will discuss:
Your vision for your custom luxury home, your style, your wishes
The internal layout, number and types of rooms, and overall size
Budget and finances
Dates, timelines, requirements, the building process
STEP 2 - House design, plans, & estimating
After the first initial meeting the next steps are:
Floor plan drafted
Internal and external designs
Scope of works is clear, taking into consideration many components such as finances/budget and overall house size and style.
This stage is critical to ensure we tailor your home to your budget.
STEP 3 - Building quote
After the design, plans, and estimating step we can now put together a quote:
This takes approximately 2 to 3 weeks.
The entire job is quoted based on the scope of works and specifications.
The complete quote is presented to you.
Possible amendments discussed, and quotation finalized with the exact price.
STEP 4 - Fixed price building contract
QBCC or Master Builders Contract is finalised outlining specifications of your build and the exact final fixed price.
Commencement date, building timeline, and completion dates set.
STEP 5 - Council application & certification
We will take care of all council requirements and paperwork needed to commence building.
STEP 6 - Pre-construction meeting
You will be introduced to your Site Supervisor/Project Manager who will be on site managing your build from start to finish.
We'll cover off many of the frequently asked questions about building your new luxury Gold Coast home
STEP 7 - Construction
Building commences
Building and Site Inspections at each stage
Progress Payments at each stage
STEP 8 - Practical completion
All building works are now complete
Practical Completion walk-through and inspection, this means your new home is now complete and habitable, barring some very minor 'defects' arising from the inspection (this is totally normal).
Minor defects rectified
Final Payment
STEP 9 - Final handover meeting
Your new luxury home is now finished and ready for you and your family to move in.
Certificate of completion is provided
Your dream home is yours to enjoy!
You local specialist luxury house builders on the Gold Coast
If you're looking for a trusted Gold Coast builder for your prestige home building project contact the Symcorp team on 1300043012 or complete our home build enquiry today.