Professional home builders Gold Coast
Our builders are on hand every step of the your new home building process with expert industry advice and knowledge. We're here to ensure your new home project runs smoothly to schedule and on budget.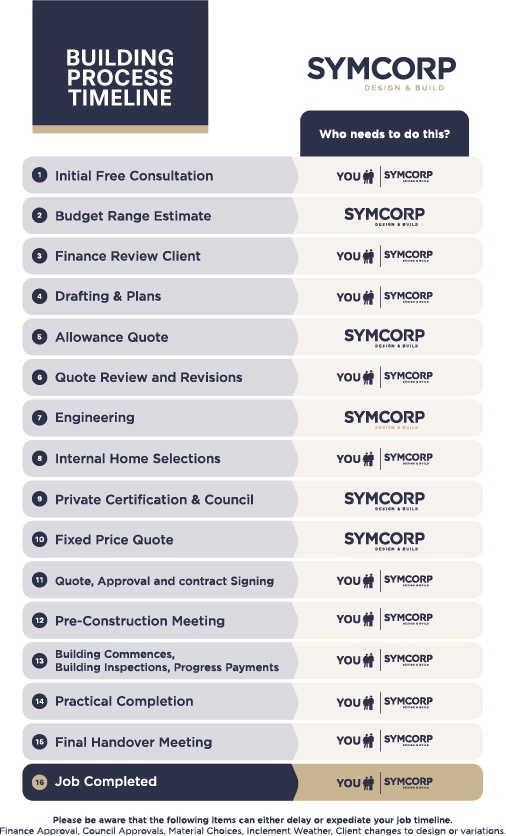 Symcorp building process timeline for new homes
The Symcorp team are on hand to guide you through every step of your home building project, offering attention to detail, excellent customer service and open communication from the first building consultation right through to project completion.
Our tailored homebuilding process covers:
STEP 1 - Initial free consultation
At this first initial meeting we will discuss:
Your vision for your custom home, your style and your wishes.
The internal layout, number and types of rooms, and overall size.
Budget and finances.
Dates, timelines, requirements and the building process.
STEP 2 - House design, plans, & estimating
After the first initial meeting the next steps are:
Floor plan drafted
Internal and external designs
Scope of works is clear, taking into consideration many components such as finances/budget and overall house size and style.
This stage is critical to ensure we tailor your home to your budget.
STEP 3 - Building quote
After the design, plans, and estimating step we can now put together a quote:
This takes approximately 2 to 3 weeks.
The entire job is quoted based on the scope of works and specifications.
The complete quote is presented to you.
Possible amendments discussed, and quotation finalized with the exact price.
STEP 4 - Fixed price building contract
QBCC or Master Builders Contract is finalised outlining specifications of your build and the exact final fixed price.
Commencement date, building timeline, and completion dates set.
STEP 5 - Council application & certification
We will take care of all council requirements and paperwork needed to commence building.
STEP 6 - Pre-construction meeting
You will be introduced to your Site Supervisor/Project Manager who will be on site managing your build from start to finish.
FAQ about building your new home
STEP 7 - Construction
Building commences
Building and Site Inspections at each stage
Progress Payments at each stage
STEP 8 - Practical completion
All building works are now complete
Practical Completion walk-through and inspection, this means your new home is now complete and habitable, barring some very minor 'defects' arising from the inspection (this is totally normal).
Minor defects rectified
Final Payment
STEP 9 - Final handover meeting
Your new custom dream home is now finished and ready for you and your family to move in.
Certificate of completion is provided
Your dream home is yours to enjoy!
Please be aware that the following items can either delay or expedite your renovation project schedule:
Finance approval
Council approvals
Material choices
Inclement weather
Client changes to design or variations
For more information, you can read our New Home help guide for everything regarding the new home build process.
Your local custom home building specialists
We've helped hundreds of Gold Coast residents just like you achieve their dream home and we're eager to get started on your project too.
Contact one of our friendly service team on 1300043012 or complete our custom home build enquiry form today.
Expert home building tips
What do you need? How do you want your new home to look, feel and work for you and your family? Do you have a plan? Have you explored a range of design options?
Stick to your budget
Decide as early as possible how much money you want to spend. Let us know so we can give you options within your price guide. Remember that your budet should cover everything that may arise from your building project, including items such as new window coverings, blinds and appliances if needed. Chat to your lender if you need finance guidance for your project.
What are your future plans?
We can look over your home and offer suggestions for the most effective solutions based on what your current and future goals and plans are.
Ensure you get a proper building contract
A written professional contract will spell out in exact specifics of the arrangements between you and Symcorp Builders which will describe your building project or renovation in detail as well as the responsibilities and obligations of all parties.
Invest in quality, not always price
Be careful not to jeopardise the standard of your home building project by compromising on the quality of materials and craftmanship.
If it's worth doing, it's worth doing well. We all want value for money and it can be tempting to go for the lowest priced builder, but you need to consider the implications if you choose a cheaper quote. Professional and experienced builders will help you select the best products and solutions within your budget. Make sure that when comparing builders that you are comparing 'like with like' for example, does each quote include the same level of inclusions, materials and products throughout the entire project?
If you need help with this we can walk your through what is included in your Symcorp new home build quotation.