Experienced Gold Coast sloping block builders
If you are wanting to build on a sloping block, but are worried about the difficulties that a sloping block brings, give Symcorp Builders a call today. We offer top quality custom homes for sloping blocks all over the Gold Coast and know all about making the most of any property that is sloping. Our building team specialise in projects many other builders would hesitate to take on, and we understand the crucial connection between builder and client to deliver beyond your expectations. If you're looking for a great Gold Coast builder to make the most of your unique piece of land, contact our team today.
What should you consider when building on a sloping block?
There are a variety of factors that you should consider when it comes to building on a sloping block on the Gold Coast, including:
The degree of the slope.
The type of slope.
Solar orientation.
Direction of prevailing breezes.
The best vantage and viewpoints.
Custom Gold Coast home designs by sloping block builders
The beautiful Gold Coast has so many gorgeous and unique areas, with residents living everywhere from stunning waterfront locations to lofty mountainside estates to absolute beachfront land. The huge range of building opportunities come in all shapes and sizes, which results in a need to adapt to the natural aspects in your location.
Many residents with sloping blocks of land find that there are limited house design options when it comes to 'project' homes. Therefore, a builder who is flexible, works to make the most of the block, and incorporates all the natural features of the area which are important to you is required. Symcorp are able to adapt to you, your block and your dream build, ensuring that the end result is everything you hoped for and more.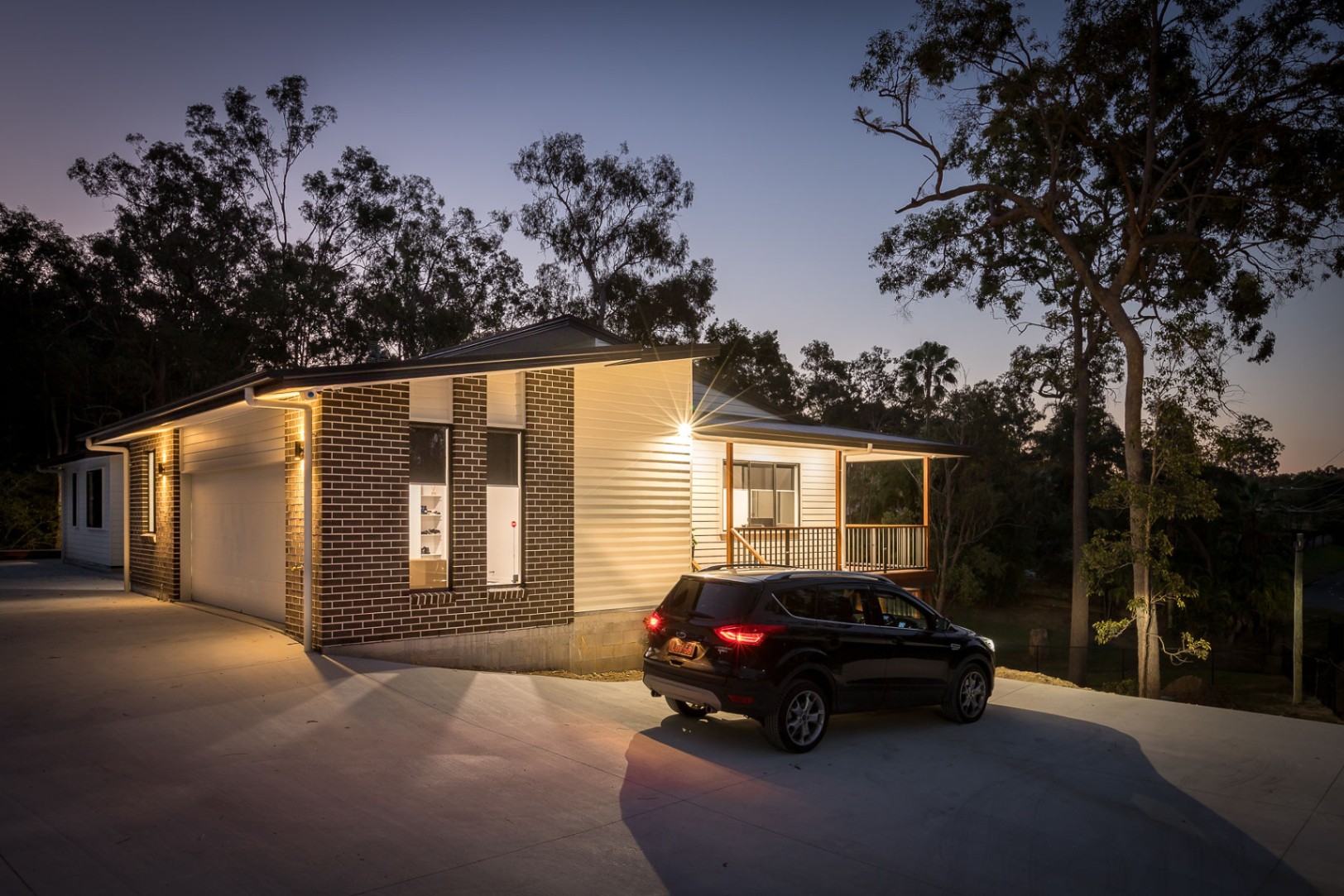 Create a truly unique home on a Gold Coast sloping block
Our builders can work with your land's special features, not just a slope, such as:
Sloping blocks - sloping from front to back or back to front.
Split level designs.
Retaining walls.
Access issues.
Rock removal.
Narrow blocks.
Mountain or hillside land.
Narrow frontage land.
Corner blocks.
Steep driveways.
Drainage and stormwater challenges.
Smaller blocks.
Established trees.
Find out more about the Symcorp building process .
Why choose a sloping block builder on the Gold Coast?
Choosing a sloping block builder to work on your project has a range of benefits, such as:
They have experience dealing with sloping blocks and their unique features.
They have the correct equipment and tools to efficiently work with a sloping block.
They have dealt with the difficulties that can come with a sloping block before.
They can discuss what a sloping block will mean to you and your build before commencement.
They can suggest practical solutions to issues that arise due to the sloping block.
They will be able to offer functional advice.
Symcorp Builders are experts when it comes to building on a sloping block, so call our knowledgeable team today to learn more.

Your local specialist sloping block builders
Our team can ensure a complete assessment is carried out prior to building to ensure all potential variations or costs have been accounted for. Our building professionals have built many houses on sloping blocks across the Gold Coast, we know what can go wrong, and how to avoid it. Get started on your unique sloping block home, contact our team on 1300043012 or complete our home builder consultation booking today.
Resources: https://ws-07-8bdxkw.goldcoast.qld.gov.au/documents/bf/building-on-sloping-sites.pdf