Which is best for your home extension - up, out, or under?
Choosing whether to add a second storey to your home, lift and build under or extend out from your current footprint involves more than considering the costs, although this is a very important factor.
Points to consider when adding to your home
Renovating by extending your home can add functional space to your existing building, removing the hassle of selling up and moving while allowing for variables such as a growing family, adding extra income from Airbnb, or making room for returning Millenials.
Deciding what you want to use the home extension for can help guide whether to go up, out, or down. Are you after an extra bedroom, additional entertaining space, a bathroom, an extension to your kitchen, a games room for the kids, or a wine cellar, etc?
Thought needs to be given to the best way to maintain the current design to seamlessly integrate the extension into your home.
Consider the local Council guidelines for your area - factors such as heritage restrictions and storey limits can affect home extension choices.
Building time - more involved projects will take longer. Do you have a deadline?
Ease in extending your current heating and cooling systems ie if you currently have ducted air conditioning? How easy is it going be adapted for a second storey or extension out or under?
Moving utilities like plumbing, water, gas, electricity significantly can add to costs and considerations - bathrooms and kitchens can be the most involved.
Extending Up - adding a second storey
Adding a storey to your home can add internal space without taking up more of your yard. However, going up can be more expensive than other options such as out. Some properties don't have extra land available around the home which could make it a practical choice.
Pros of adding a second storey to a house
Take advantage of potential views - the mountains, ocean, river or canals, the amazing Gold Coast skyline
Catch the sea breezes - naturally cooling your home
Maximise the use of natural light in your home
Preserve existing landscaping and gardens
A feature such as an amazing view can add value to your home
Utilise existing plumbing
Cons of a second storey extension
You need to remove some or all of the roof - this cost can add to your reno budget. Also, the inconvenience of removing the roof will probably affect the whole house, in many cases, residents may need to move out, at least for a few days.
Scaffolding - an important cost that needs to be allowed for in your budget
Not suitable for all homes as an extra storey adds a lot of weight to the lower floor structure and foundations
Presents privacy issues if the second storey overlooks neighbouring properties.
Can also add shade to adjacent homes interfering things like solar power systems.
Internal stairs take up room on both the second storey and the ground floor. Plus the added cost of the stair construction.
Consider if you're adding a bedroom/s upstairs is a bathroom needed too?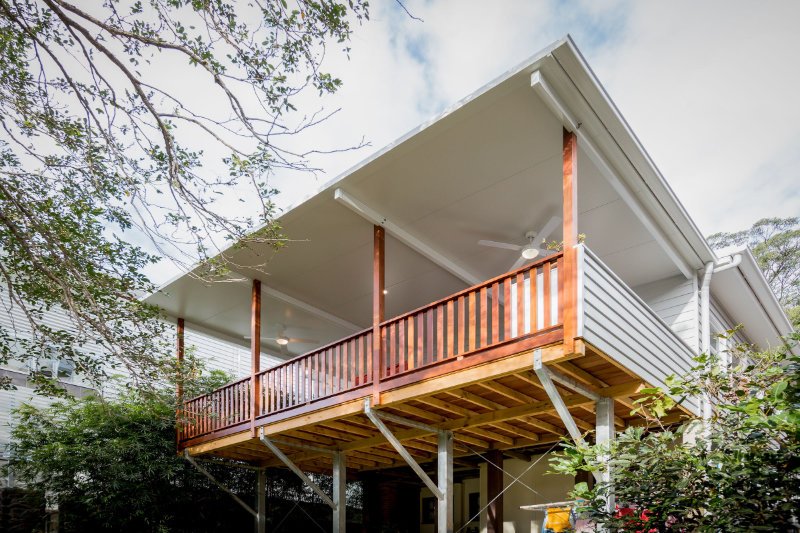 Extending Down - Building in under your house own
Some house styles are conducive to extending underneath the existing building. Traditional Queenslander homes, post-war workers cottages, and timber homes are all styles that have the potential to be able to be lifted and built-in underneath, where others can be dug out for building space (depending on the soil type or rock under the house).
Pros of building under your house
You'll be utilising the existing roofline and footprint
Suitable for timber-framed homes on stumps and brick piers
Provide a cohesive link from your home to the garden
Potentially double your house space
If raising the current home level you're adding a view to existing rooms
Cons of building under
Not suitable for homes on concrete slab foundations and brick or brick veneer houses.
By building in you're removing the benefit of the cooling air circulation under the house which is often a main design feature of styles designed for hot climates such as Queenslanders and post-war cottages.
2.4 metres is the minimum legal height for a habitable area which may mean your home needs to be lifted or dug out significantly.
Structure of the existing home needs to be sound and protected during digging out or lifting.
Heritage restrictions and approvals could present limitations to building under older houses particularly Queenslanders built before 1946.
Space needs to be allowed on both levels for stairs.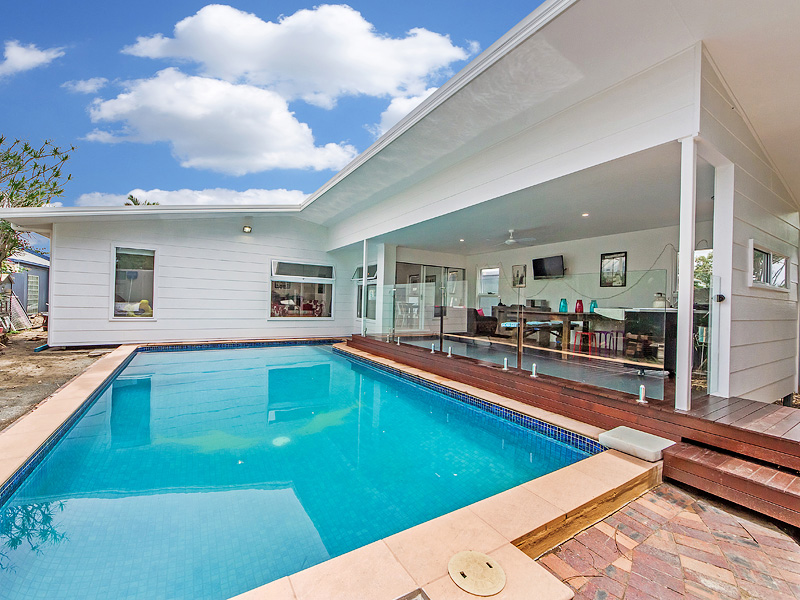 Extending Out - adding a home extension
Got plenty of land? Why not utilise it for living space? Extending your home out is a great option to customise your current home to add rooms.
Pros of extending your home
Often one of the most affordable ways of adding space to your home (compared with extending up or under)
A less disruptive option - you'll probably be able to stay in your home during the building process.
A less complex project to extend out on level ground than up or under.
Cons of extending out
Is the land usable? Sloping blocks or ununiform shaped blocks can present building challenges when extending.
Reduced garden space - less room for animals, kids play, and later adding options like a pool.
If you're adding a kitchen or bathroom to the extension plumbing costs need to be considered.
Expert advice from the building professionals
Extending your home, whether up, down or out, is a big undertaking. Ensure you speak to plenty of professionals in the field, consider how each option fits into your budget, and how the extension is going to benefit your home. Examine the most cost-effective option plus the one that gives you the biggest bang for your buck. Don't overcapitalise.
Go with an experienced builder to ensure all aspects of the pros and cons of each option for your property are covered. Having all the info means you can make informed decisions on the best choice for your home extension.