Our Home Renovation Process
Does your home need some TLC? Perhaps you are planning a home renovation and would like to know the steps involved in the process before you embark on that journey. At Symcorp, we can help you build your dream home with our streamlined building process.
Symcorp Home Renovation Process
Our building process is designed for customers at any stage of their renovation journey. Whether you are just thinking about renovating your home or looking for builders to carry out your renovation, we can help you transform your home.
Here's a rough guide on the steps involved in the renovation process.
Budget
Set up a rough estimate on how much you would like to spend on your renovation. Also set aside a 15% buffer to cover emergency expenses.
Planning
Planning is a crucial phase of the renovation for obvious reasons. It will help you decide how you want the renovated section to look like and also being clear about goals. Consider the value renovation might add to your home or will it be better to knock down and rebuild.
Already past these stages? The next steps involve hiring a builder to execute your plans. Our process is designed to help consumers achieve their vision in a simple and convenient way. We do all the heavy lifting for you and ensure you get the desired results.
How do we do it?
Step 1 - Initial Free Consultation - Our team will meet you and understand your lifestyle, vision and what you want to achieve in your home.
Step 2 - Finance review - How will you fund the renovation? Do you have equity in your home? Are you refinancing or considering redrawing your mortgage? Or are you applying for a loan?
Step 3 - Job estimated & accepted - We will then provide you with a detailed cost estimate including the scope of work, cost and estimated finish date. We also schedule the tradepersons, contractors, materials and fittings to ensure everything is ready to go when the construction commences and meets our high quality standards.
Step 4 - Drafting & Plans - In this stage, our builders will begin working on creating drafts and floor plans as per your brief. With collaboration and clear communication, we will be able to create the preliminary drawings.
Step 5 - Certification & Council Some renovations require council approval while some do not! Depending on the scope of the project, we will get the required approvals and certifications from your local council.
Step 6 - Finalise Quote & Sign Contract - The next step is to finalise the quote and sign the contract. We provide a fixed price contract so you can rest assured that there won't be any cost blowouts during the building process. We create a detailed contract for all our clients and yours will be no different. Your contract will include all the project details, fittings and fixtures used, floor plans, payment details, estimated project completion date, etc.
Step 7 - Pre-Construction Meeting Before we begin the construction, we meet again to discuss the construction schedule and the estimated completion time. We strive to work around your schedule to create minimum disruption to your lifestyle.
Step 8 - Building Commences - Now the fun begins…We begin the construction process and conduct building inspections in regular intervals of the construction phase. We will keep you in the loop every step of the way throughout the construction process.
Step 9 - Project completion - In the last stages, we will undertake quality checks and final building inspections to ensure the project is completed to the highest industry standards. Our team will walk you through the renovation sections of the house. We will also encourage you to inspect everything and notify us of any defects.
Step 10 - Final handover meeting - Once you are happy with the results, we will provide you with a building inspection certificate, warranties and a formal notice of completion. This will also include the best practices you can follow to maintain your property and a 7-year structural warranty.
Step 11 - Job completed - This marks the end of your home renovation journey.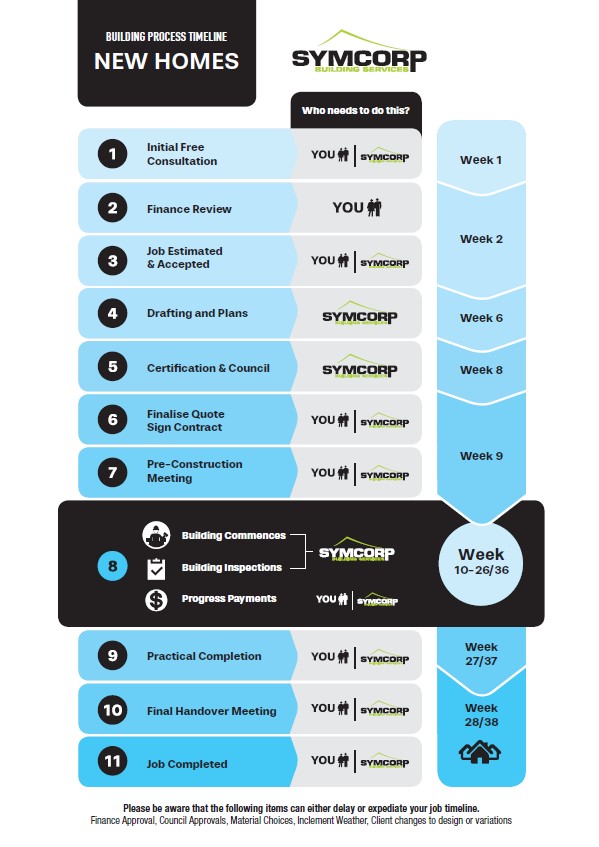 Note: Please be aware that the following items can either delay or expedite your renovation project schedule:
Finance approval
Council approvals
Material choices
Inclement weather
Client changes to design or variations
Your Trusted Home Renovation Experts Gold Coast and Tweed Heads
Whether you need a partial or complete renovation, kitchen or a bathroom reno, Symcorp has a streamlined process for renovations. Get in contact with us on 07 5558 3812 or complete our online home reno enquiry form.