How long does it take to build a new home?
The short answer is, it can take from four months to 1 year to build a new home.
A kit or project home can shoot up in around 4 months as building companies who specialise in this style of house build slight variations of the same home many times over. Because of this a lot of the structure can be prefabricated beforehand. A custom-designed unique home can take up to a year to build.
If you're after a custom solution using an experienced builder, this can cut the build period down as they have streamlined their systems and processes, built a team of trusted experienced tradespeople and contractors, and established local industry connections to efficiently source the materials required.

There are a range of factors, some can be planned for and others unexpected, which can increase the time it takes to build your new home. These can include:
the size of the house
the number of storeys
the complexity of the build
a difficult or sloping block
extensive site preparation (site works)
unexpected events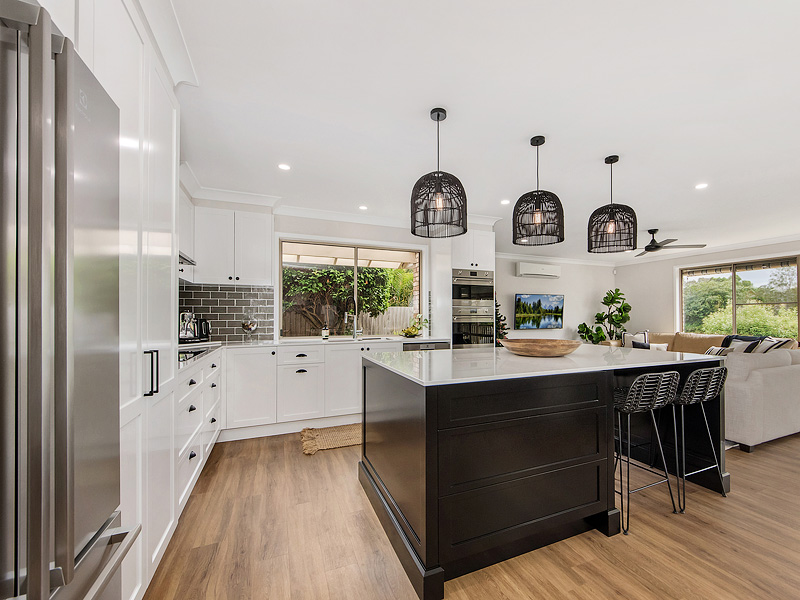 House size & number of storeys
A low set 2 bathroom 3 bedroom home will usually be faster to build than a double-storey 5 bedroom 4 bathroom luxury home for the simple fact that there is less to build. Fewer walls, less roof space, less plumbing, less electrical wiring, fewer lights, it all adds up to longer build duration.
Complexity of the house design
Custom aspects and features can increase the time it takes to build your home. This could occur due to things like a supplier waiting for the perfect a slab of Italian marble to cut the custom kitchen benchtops or your plumber not being able to finish the bathroom as he's waiting for the tailor-made tapware.
Other bespoke design features can take the builder longer to create or fit such complex ceilings, large custom windows, or floating stairs.
Difficult or sloping block & site preparation
Most blocks need some site works, even if it's just to level off the ground, however others will require extensive adjustments to prepare the land for your new home. Your builder may need to trim a sloping block to level the area for the foundations. This can involve moving large amounts of earth, removing rocks, clearing trees and digging out tree roots, or building retaining walls.
Your builder will be able to estimate how long site preparation will take and factor that into your timeline (and budget).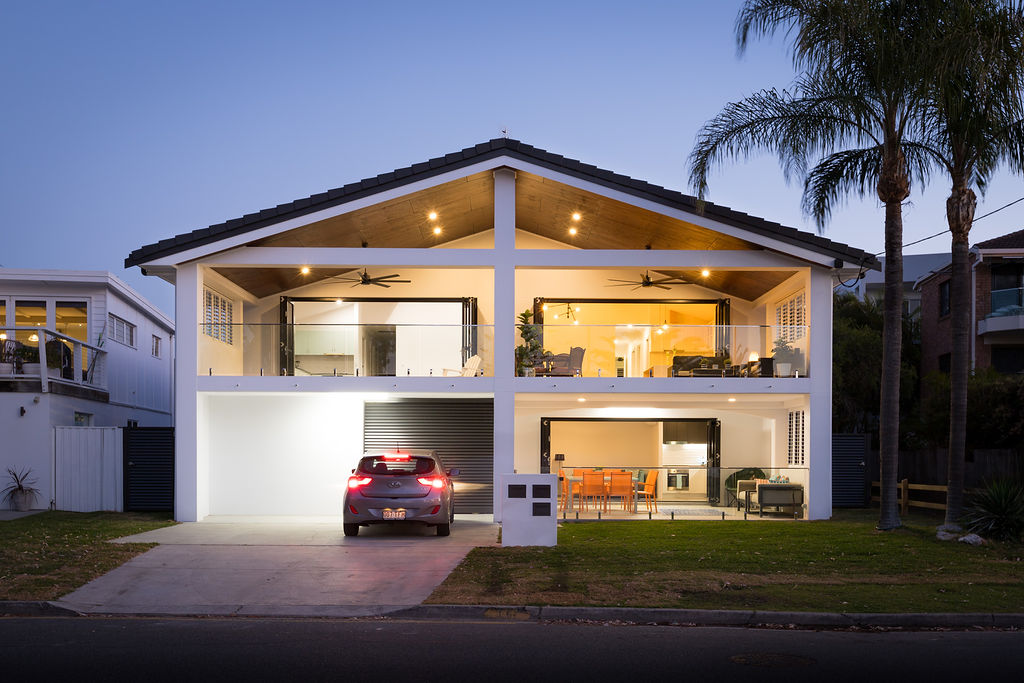 Unexpected delays
Unexpected events can also affect the build duration, adding weeks or sometimes months to the project. Things like council approvals, rain or storms at crucial times through the construction, finance approvals, bank payment delays, and post-contract variations can mean you are looking at a longer project timeline.
Always allow extra time (and budget) for unanticipated delays like these.
Symcorp new home build timeline
The Symcorp home building process takes, on average, 28 to 38 weeks (6.5 to 8.5 months) from the initial consultation to job completion, with the actual construction stage lasting around 16 to 26 weeks (4 to 6 months).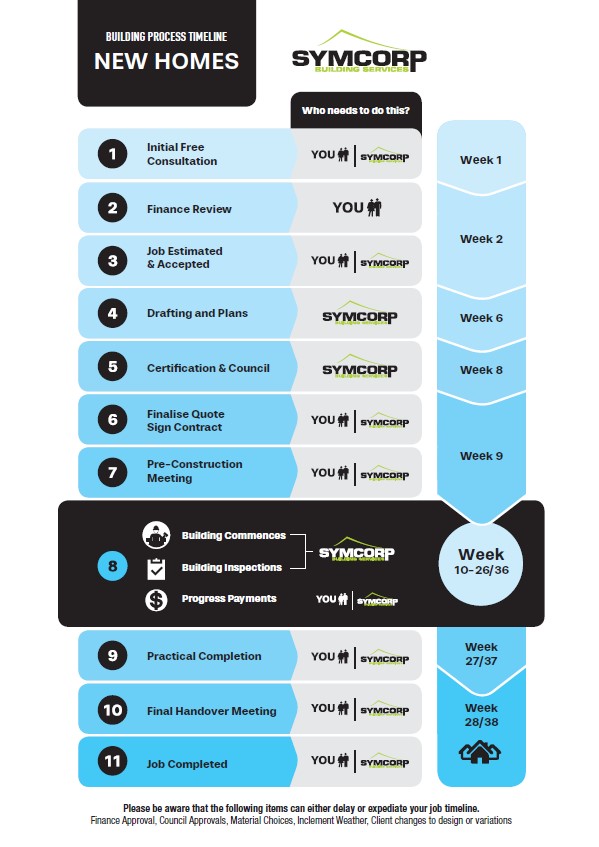 Find out more about our new home building process.
If you would like professional advice and a free home building consultation speak to the experience team at Symcorp today at 07 5594 1768.